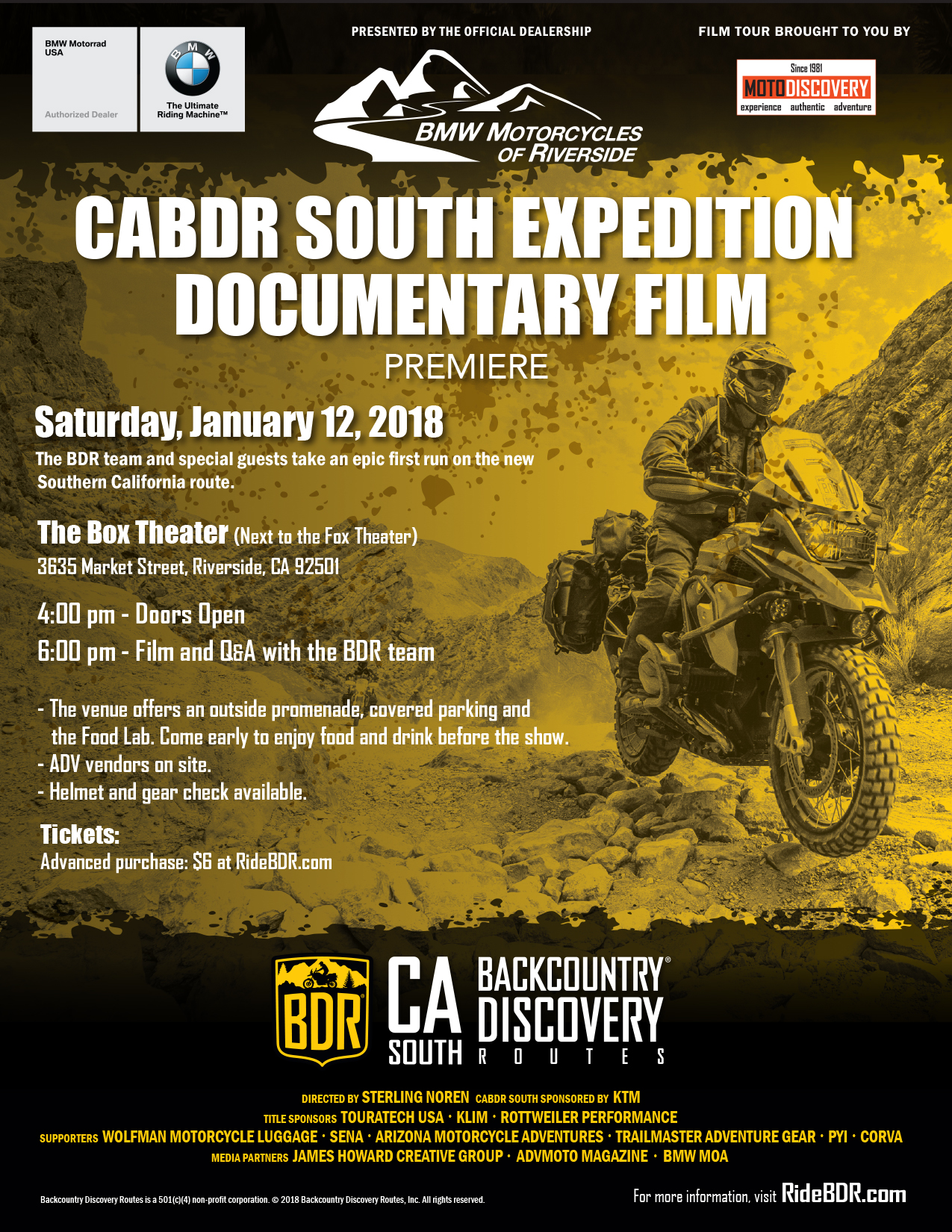 Join us for the Premiere of the California-South (CABDR-South) Expedition Film Documentary.
Saturday, January 12, 2019
The Box Theater (Next to the Fox Theater)
3635 Market St., Riverside, CA 92501
4:00 pm – Doors Open
Come early and treat yourself to delicious food and drinks at the Food Lab next to the theater.
6:00 pm – Movie, followed by Q&A with the BDR team
Tickets: Advance tickets are $6 per person available at https://www.eventbrite.com/e/world-premiere-of-the-cabdr-south-expedition-film-documentary-tickets-53462799673
Parking: The venue has an attached parking structure and there is ample additional street parking in the area. Helmet and gear check will be available for those riding to the event.
About CABDR-South
The CABDR-South is the ninth route developed by the BDR for dual-sport and adventure motorcycle travel, and the first Wintertime BDR. Free GPS tracks and travel resources on RideBDR.com, and a waterproof Butler Motorcycle Map, and feature length expedition documentary film on DVD and video-on-demand will be available to the community on January 1, 2019.
The film features BMW Motorcycles of Riverside owner Dan Schoo, as well as 4-time Baja 1000 Champion and Dakar Rally Racer Quinn Cody of KTM, taking a first run on the new Southern California route. The spectacular yet challenging 820-mile ride across the south-eastern region of California, starts in Yuma, AZ, and ends in Benton, CA. Primarily using rugged two-track and remote dirt roads the route leads riders through majestic canyons, rocky riverbeds, and sandy washes of California's famous deserts and national preserves. You'll experience quirky desert enclaves and ghost towns, visit historic mines, see ancient petroglyphs and intaglios, dip in healing mineral hot springs and ride among the unique Joshua trees in the Mojave National preserve.
Questions? Call BMW Motorcycles of Riverside at 951-353-0607.