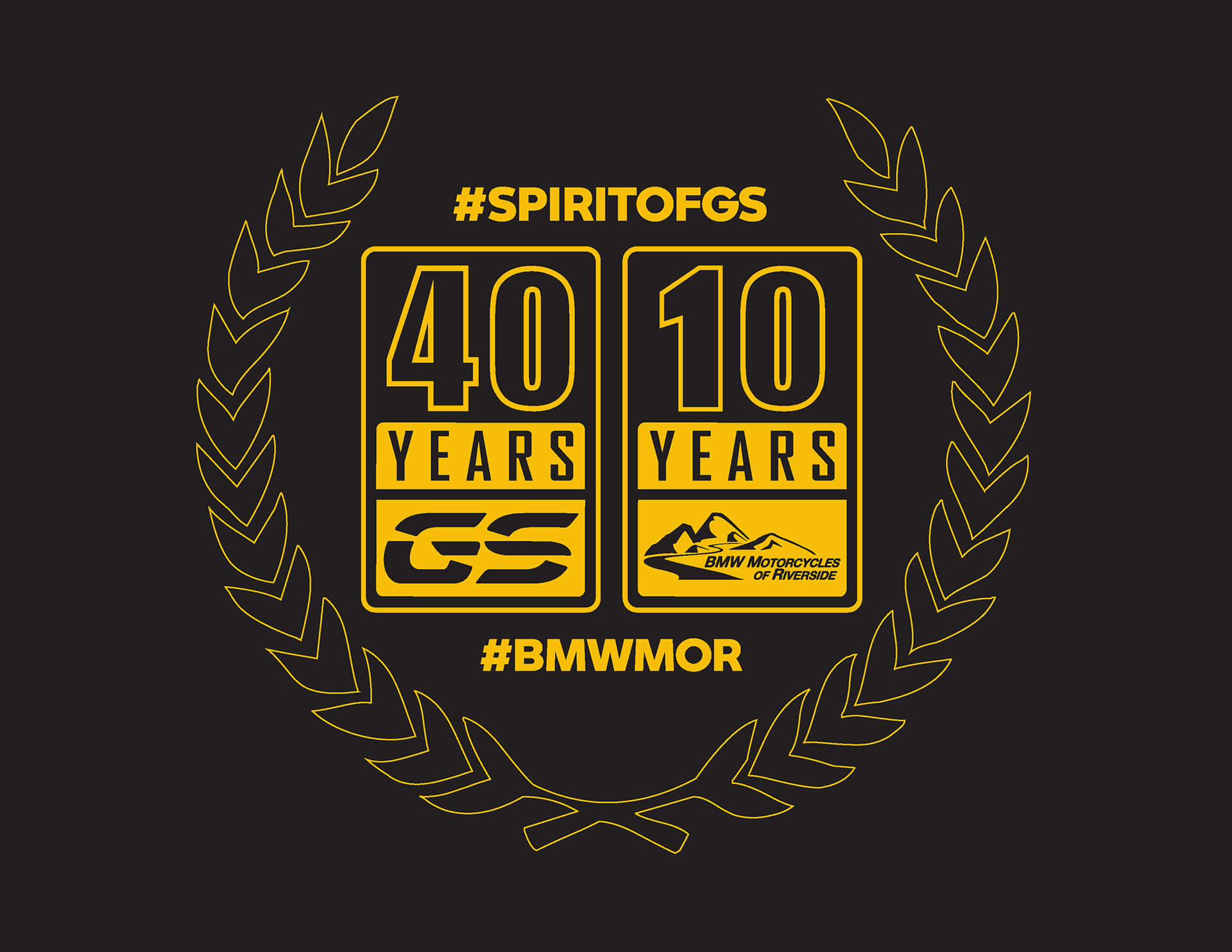 Join us for a season-long celebration of 40 Years of GS and 10 Years of BMW Motorcycles of Riverside!
Since 1980, BMW's GS has defined and dominated the adventure motorcycling segment, and since 2010, BMW Motorcycles of Riverside has been its top retailer and destination for enthusiasts.
We'll kick off honoring these milestones with world-class rider training at Gary LaPlante's MotoVentures facility, featuring BMW's own Shawn Thomas and the launch of a route book chronicling dozens of our famous shop rides. Included in this detailed, spiral-bound book will be roads, trails and points of interest that will be the playing field for a scavenger hunt concluding with a year-end raffle where you can win major prizes!
Our training event at MotoVentures is happening on Sunday, October 25th and is limited to just 30 spots. Pricing is normally $275, but BMW Motorcycles of Riverside is kicking in almost half the cost for a reduced fee of just $150!
This is a golden opportunity to sharpen your riding skills, learn how to tune your GS engine and suspension and test your mettle on a challenging course. The small group allows for tailoring the instruction to your needs, whether you're an off road beginner or an experienced rider ready to tackle a difficult BDR.
Hurry, the deadline for registration is October 16.
You'll get access to three instructors:
Chris Johns, Master GS mechanic and winner of the 2019 BMW GS Trophy Challenge
Gary LaPlante, MotoVentures founder, Author of the book How to Ride Off-Road Motorcycles
Andre LaPlante, MotoVentures Chief instructor, USMCA-Certified
BMW GS Product Experts Shawn Thomas and Louise Powers will also be on hand to answer all of your questions.
Event Highlights:
Increase your riding abilities with a series of skill-building on-bike exercises
Access to lightweight dirt bikes to safely acquire advanced skills
Learn how to set up and adjust your GS suspension and utilize its various performance modes
Enjoy trail rides on MotoVentures marked trail system
Test your riding skills on MotoVentures Challenge Course
Free camping for participants the night before
Less than one mile from The Cahuilla Hotel and Casino
Food and drinks will be provided
The MotoVentures property is a riding paradise with features including rolling hills, single track trails, a sand wash, hill climb, trials rocks, and great weather almost year round.
Note that MotoVentures is following safety guidelines that include operating completely outdoors, using fully sanitized riding gear, keeping a safe distance from students and guests, and encouraging mask wearing.
More details to come on our route book curated by the GS riding experts at BMW Motorcycles of Riverside and our scavenger hunt!