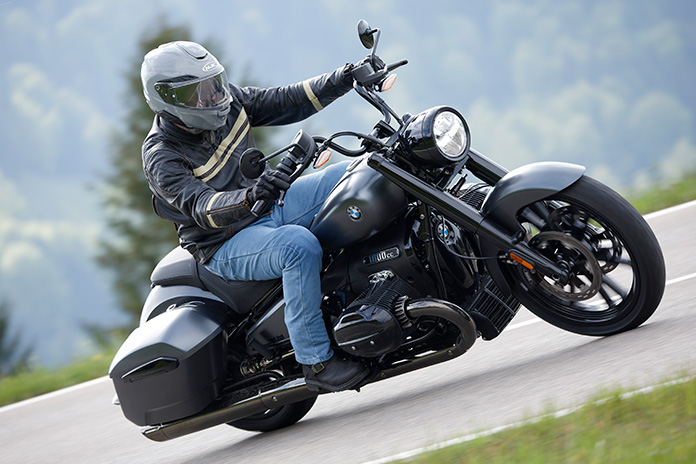 Meet the BMW R 18 Roctane, a tourer about hot-rod style and personalization. This bike is not just a ride; it's an expression of your unique personality. Powered by a beefy boxer engine, it transforms every twisty road into your very own Route 66. And the best part? It's got that cool black matte look that screams joy. Well, for those who bring #SoulFuel to life, that is.
It has bagger vibes, a dragster seat, and mini ape hangers. Trust us; this isn't your run-of-the-mill bike. But what if you want to crank up the rock 'n' roll factor even more? This bike is ready for your custom touch. All it takes is you and your imagination!
This bike is a rebel; it refuses to blend in, especially with its bold, dark colors. Or should it stand out precisely because of them? With three different versions to choose from, you can make it your own. Are you into doing things your way? Take your Roctane to the next level with some customizing magic.
You should also check out the iconic front with that round LED headlight leading the way and a massive 21-inch cast aluminum wheel begging to hit the open road. Grip the mini ape-hanger handlebars casually, rest your feet on those standard footboards, and let the dragster seat provide the comfort you need on those long journeys. 
The sleek bagger outline flows gracefully to the stylish rear end, with hard-shell cases. Oh, and let's not forget that unmistakable boxer sound that roars from the dark chrome rear exhaust. This bike is bound to turn heads wherever you go.
Make the R 18 Roctane truly yours with a range of optional accessories available. Want to add some Filler Panels or go for the Machined series by Roland Sands Design? There are BMW motorcycle accessories available. There's even a single-seat option available; remember, there are no limits to your customization ideas. Your bike, your rules.
BMW Motorcycles of Riverside 
Customizing your favorite BMW motorcycles becomes much easier when you have the right accessories to work with. This is where we come in. At BMW Motorcycles of Riverside, we are your best option when it comes to BMW Motorcycles services near you. 
We are the leading BMW Motorcycle dealer in Riverside, CA, near Corona. We also serve areas near San Bernardino. Check out our inventory today, and let's get you started.