Introducing the incredible BMW R nineT 100 Years and the R 18 100 Years motorcycles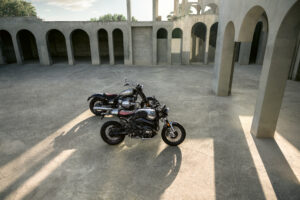 BMW Motorcycles have dominated roads with monstrous power and style for a century. To mark its centennial, BMW Motorrad is introducing the BMW R nineT 100 Years and the R 18 100 Years. What can you expect from these upcoming motorcycles? 
Notable Features Of the BMW R nineT 100 Years and the BMW R 18 100 Years
The BMW R nineT 100 years is a product of traditional heritage. It is inspired by the original motorcycle that brought BMW Motorrad into the motorcycle industry. It is inspired by one hundred years of innovative expertise. 
It has a sophisticated boxer engine with an expertly arranged compact tank. It has two cylinders that produce 80kw (109 hp). It is air and oil-cooled and has a wide range of options. All the parts are made of rare high-quality materials. 
As a product of its legacy, the BMW R nineT uses a phenomenal and classical chrome surface. This chrome surface concept was popular in the 1920s for its durability and high quality. The chrome surface protects the motorcycle from corrosion and gives it a shiny look. It extends the durability of the motorcycle and retains its appearance through the years. 
There is also a complimentary knee pad and an exclusive badge. The fork tubes and air intake snorkel come in black. The 719 classical wheel option includes a milled cylinder head cover, engine housing cover, seat holders, and an oil filler plug. 
This BMW Heritage Motorcycle is designed for your comfort with an anti-theft system, adaptive turning light, heated grips, and cruise control. The BMW R nineT 100 Years is furnished for comfort, elegance, and style. 
The BMW R 18 100 years is a record-breaking achievement due to having the most significant engine displacement ever installed by BMW Motorrad. Its signature boxer engine produces a powerful 67 KW (91 HP). It also has many distinguishing features. 
Visit our BMW Motorcycle Dealer near you
.
If you want exclusive deals on BMW Motorcycles, BMW Motorcycles of Riverside is the right place to go. It runs promotions that offer you exceptional discounts on outstanding models. The inventory contains a collection of top-quality motorcycles. 
The finance specials accommodate spaced-out payment for motorcycle purchases and warranties for select models. Other services of BMW Motorcycles of Riverside include servicing and maintaining your motorcycle. You can also find OEM parts for sale at our dealership in Riverside, CA. 
Schedule an appointment with BMW Motorcycles of Riverside for a free test ride near Corona, San Bernardino, Ontario, and Los Angeles.