Here is what you really need to know about the new BMW M 1000 RR in Riverside, CA.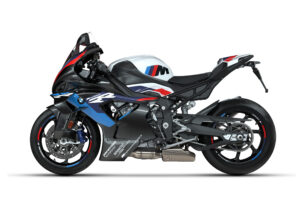 Have you wondered why the BMW M 1000 RR is famous? The reason is not far-fetched; the new BMW M 1000 RR, built for racing, has raised the standard of racing motorcycles. BMW Motorrad is known worldwide for its high-tech features, reliability, and class. 
The brand has yet again set a new milestone in the industry with the latest BMW M 1000 RR. BMW's unwavering passion and technical finesse have led to the manufacturing of the engineering masterpiece we see in the aerodynamic development of the BMW M 1000 RR.
The BMW M 1000 RR is powered by the standard water-cooled inline 4-cylinder engine used for racing, which has a peak output of 212 hp at 14,500 rpm. Its framework depends on the aluminum bridge chassis as its centerpiece, supported by a central suspension strut with floater pro kinematics and an upside-down fork. 
It's essential also to note that two versions of the BMW M 1000 RR are available. A distinguishing characteristic of the BMW M 1000 RR is increased and unrivaled capability due to the improvement in its aerodynamic area. 
The top speed has improved because of the new fairing made of exposed visible carbon fiber with an increased windscreen. Its fairing is light and manufactured from carbon fiber. 
The R winglets were revised, the front wheel was also improved, and a striking addition is brake cooling air ducts made of visible carbon fiber, which significantly improved the brake airflow. 
The rear has also been redesigned, making it appear lighter, more dynamic, and sportier. Several other features distinguish the new model from previous ones, such as introducing an ergonomic M endurance seat. This modified wiring harness has an LWS connector, and short number plate holder, a rear USB charging socket, a launch control that gives it a perfect race start, a Lightweight M battery, electronic cruise control, e.t.c.
You can stop by our BMW Motorcycle dealership in Riverside, CA.
The new BMW M 1000 RR at BMW Motorcycles of Riverside.
You will want to get your BMW M 1000 RR from our reliable and approved BMW Motorcycle dealer to avoid getting a counterfeit or faulty product. You can always reach out to us at our dealership in Riverside, CA.
We have a complete stock inventory of new and old BMW Motorcycle models. Are you looking for a reliable BMW Motorcycle dealership near you? We are one of the top BMW Motorcycle dealers in Riverside. Contact us today.