Why buy a 2022 BMW Heritage motorcycle?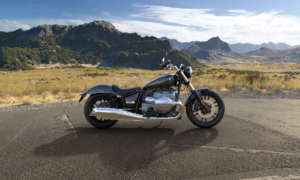 Are you looking for a reliable BMW Motorcycle dealership near you? We at BMW Motorcycles of Riverside are available all day long near Corona, Ontario, Los Angeles, and San Bernardino to provide you with the perfect motorcycle.
Regarding iconic Heritage motorcycles, BMW is undoubtedly the leading manufacturer worldwide. BMW motorcycles are widely known for their modern technology features, solid build quality, sleek design, comfortable riding ergonomics, and sporty handling.
Riding a BMW motorcycle is different from any other brand; it gives a different thrilling experience due to its high-performance engine and superior off-road and on-street suspension. The brand is known for its luxurious products characterized by highly tech-inclined components.
BMW motorcycles do not lack in performance, power, or exterior design, especially the R 18 series, which are perfect examples of the iconic BMW Heritage motorcycles. The R 18 series includes the 2022 BMW R 18 Classic, 2022 BMW R 18, and the 2022 BMW R 18 Transcontinental. These three 2022 BMW Heritage motorcycles are loaded with so many enthralling features, including superior modern tech components, modern convenience, comfort amenities, and safety equipment.
They are designed and built with solid and powerful engines that handle exceptionally well to offer a comfortable and smooth long-ride experience as you cruise through the byways and highways. 
These R 18 series motorcycles are all powered by an 1802cc, four-stroke, and two-cylinder BMW Boxer engine, which utilizes electronic intake manifold fuel injection, an enclosed loop three-way catalytic converter, and BMS-O, which has an electromotive throttle controller, and these engines are mated with a single disc dry clutch and a six-speed transmission which delivers 91 horsepower and 116 lb.-ft of torque.
Every 2022 BMW R 18 series has a stunning and classic aesthetic look, attractive chrome accents, and the standard cyclops headlights. However, they are designed with distinct styles and exterior looks. The 2022 R 18 Transcontinental delivers the maximum in luxury and the passenger's backrest with top cases, and also the tall windscreen delivers comfort for both riders. The 2022 R 18 was designed for a single rider with a wide saddle seat. The 2022 R 18 classic is built for long, smooth journeys.
Contact us at BMW Motorcycles of Riverside anytime you are willing to get more information about Heritage motorcycles.
Visit BMW Motorcycles of Riverside today
.
At BMW Motorcycles of Riverside, we are your local BMW Motorcycle dealership situated in Riverside, CA. Please make us your first stop, and check out these motorcycles and more.
We have a full inventory of BMW Heritage motorcycles, such as the 2022 BMW R 18, 2022 BMW R 18 Transcontinental, 2022 BMW R 18 Classic, and more motorcycles. We also have an inventory of used motorcycles that are looking good. Here, you can test ride a BMW motorcycle with us.
You can trade your old motorcycle for a new BMW motorcycle, and we also have our finance service. Contact us today at BMW Motorcycles of Riverside to enjoy the best customer service.