Why buy a BMW Adventure motorcycle in Riverside, CA?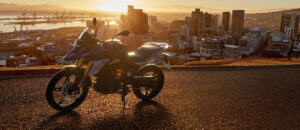 With this range of adventure beasts, the question should be, why have you not bought an adventure motorcycle in Riverside? 
As an adventure enthusiast whose first reaction to the prospect of an adventure is a smile and an accompanying adrenaline rush, you need a motorcycle that matches that adrenaline. Scratch that; you need a motorcycle that would make you want to go on those adventures you've always wanted. That's where the BMW Adventure motorcycles come in. BMW Motorcycles, products of BMW Motorrad, which has a long-standing tradition of delivering excellence based on its promise to the consumers, have never disappointed in this promise, and they are not going to start now. So, buying an adventure motorcycle from BMW Motorcycles of Riverside will never be wrong. 
Let's discuss the range of the latest adventure motorcycles in our inventory. 
BMW F 750 GS
The route master, the BMW F 750 GS, for sale at our dealership provides an exciting new break from everyday life. Why live a boring life when you can go on adventures? This motorcycle masters your adventure routes and remembers them when you are going on your next adventure. Powered by an 853 cc two-cylinder four-stroke in-line engine which produces 77 hp and 61 lb.-ft of torque, this impressive motorcycle powers through rough terrains admirably. Standard equipment in the BMW F 750 GS includes ABS Pro, Dynamic Traction Control (DTC), LED indicators, and the optional Ride Modes Pro. 
BMW F 850 GS 
Oh, you are a fan of off-road adventures? Then this BMW F 850 GS for sale at our dealership is for you. Its 21-inch front wheel makes off-road adventures desirable as it moves through alternating terrains, dirt, and rock with utmost dexterity. The 853 cc two-cylinder four-stroke in-line engine that produces 90 hp and 63 lb.-ft of torque, the expanded standard equipment, and the many special accessories ensure you can go well beyond the beaten track with confidence. 
BMW G 310 GS
New to adventures? You can start small by making trips to places around you, to the mini jungle in your backyard, or some of those places you've always wanted to explore around you with this water-cooled, four-stroke single-cylinder engine. You don't have to use it for adventures alone; this can also be your go-to choice of mobility to breeze through city traffic or enjoy the cool breeze in the suburbs. There is no limit to your preferences on the BMW G 310 GS we have for sale in our inventory. 
Now that you know all that, visit our dealership in Riverside, CA, for your adventure motorcycle today.