Ten motorcycle safety tips riders need to know in Corona, CA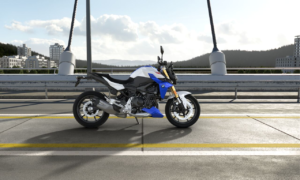 Yes, motorcycles are stylish, entertaining, and economical, but that doesn't mean they're risk-free. According to the Insurance Information Institute, the probability of having a fatal injury after a crash as a motorcyclist is higher than as a motorist. BMW Motorcycles of Riverside presents the following safety tips.
Tie Your Shoelaces.
As fashionable as sneakers and dress shoes are on motorcycles, not tying them and tucking them in can get them stuck in your footpeg. This could result in a fall when you try to park your motorcycle.
Make sure you have the right attire.
At BMW Motorcycles of Riverside, we believe that motorcycle gear does not just make you look pretty. It protects you from the weather, road rash, and debris. At the minimum, it's essential to wear a durable helmet and goggles that have been approved by the Occupational Safety and Health Administration (OSHA). In addition, be prepared for sudden changes in the weather by dressing in layers.
Before every ride, inspect your motorcycle.
Before hitting the road, give your motorcycle a once-over to ensure everything is in working order. Please look at your lights, brakes, turn signals, mirrors, tire pressure, and oil to make sure they're on the right level and not malfunctioning.
Observe traffic laws and regulations.
To avoid accidents, it's vital to obey traffic laws, use signals, and travel at the speed limit. In 2009, the Insurance Institute for Highway Safety found that 48 percent of motorcycle deaths were due to excessive speed.
Make sure you keep a safe distance from other vehicles.
In no way, shape, or form can you feel safe while tailgating. Keep at least four seconds between you and the vehicle in front of you when riding. That way, you'll be able to stop immediately in an emergency. It's also a good idea to have an escape plan in mind, such as shifting over to the shoulder if you are unable to stop.
Always have a first-aid kit on hand.
Having a basic first-aid kit on your motorcycle is a smart idea in the event of an accident. Your first aid kit should include disinfectant wipes, sticky tape, and Band-Aids.
Be on the lookout for any risks on the road.
Riding defensively allows you to foresee traffic and road issues before they occur. Traction can be lost due to sand and grease as well as gravel. It is important to avoid both bumps and potholes. 
Learn how to ride at a higher level.
Take a more advanced riding course to hone your abilities and learn new ones. Build collision avoiding skills, advanced turn management, and braking techniques.
Make sure the weather is good before you head out.
Riders face particular dangers in the rain, ice, or snow because they have less traction and visibility than motorists. You may want to reschedule if there is bad weather in the forecast. 
Motorcycle brake.
As a motorcycle rider, it's not enough to just see other vehicles. You have to know when to stop, change lanes or make a turn with caution. Practice braking in various weather situations.
If you're looking for safe motorcycles near Corona, CA, contact BMW Motorcycles of Riverside today. Our new and used inventory includes the BMW F 900 R, the BMW R 1250 GS, and the BMW R nineT Scrambler. Visit our BMW Motorrad dealership near Corona today!