Introducing the BMW R 18 M and R 18 Aurora near Corona, CA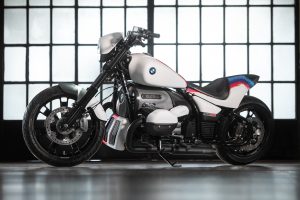 In conjunction with BMW Motorrad Italy, BMW Motorrad has created two new additions to the iconic BMW R 18 line-up during the Verona Motor Bike Expo. These two additions are the R 18 M and the R 18 Aurora.
These two motorcycles were created with the help of some Italian customizers and Italy's seller community. The BMW R 18 M project was developed by the Italian Magazine LowRide and produced by American Dreams. At the same time, the BMW R 18 Aurora was engaged by BMW Motorrad Roma and created by Garage 221. 
BMW R 18 M
BMW uses the letter M to distinguish its sports motorcycles. So, this model is a sporty version of the retro R 18 line-up. According to LowRide, the inspiration behind the motorcycle was to bring a more streamlined sportier look to the BMW Cruiser. 
While addressing this issue, Giuseppe Ronsen, the director of LowRide, said, "Stability, long wheelbase and readiness of the 1800 cc big boxer instigate lightning starts and deserves, in our opinion, a sporty and retro look. In the R 18 M's design, we find suggestions from BMW Motorrad tradition: M stands for Motorsport." 
The focus of the work is on suspension set-up, chassis, bodywork, and accessories. On the other hand, electronics and mechanics have been left untouched in true conformity to the BMW R 18 line-up spirit. 
BMW R 18 Aurora
The presentation of BMW R 18 at EICMA in 2019 jumpstarted Garage 221's desire to create a custom motorcycle on the cruiser. "The lines of the new BMW cruiser, innovative and at the same time faithfully traditional deserved complimentary elements and an even more Heritage spirit, starting from the soft lines of the tank to the characteristic shapes of the boxer," said Pier Francesco Marchio of Garage 221.
Garage 221 used its experience in the BMW world and knowledge of the elements used in other models to modify the 1970 line-up, which gave birth to BMW R 18 Aurora. 
Check out the news on other BMW motorcycles at BMW Motorcycles of Riverside. We are a motorcycle dealership near Corona. You can also check our new and used motorcycle inventory for prices and motorcycles that will suit your needs. Get started on buying a motorcycle today.