Why Buy a BMW Roadster Motorcycle near Ontario, CA?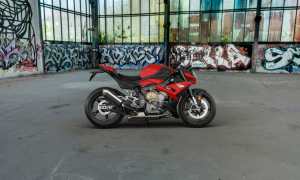 BMW motorcycles are fantastic! There's no doubt about that, and BMW Motorrad has been ensuring over the years and with the recent addition of new motorcycles to the Roadster lineup that we don't forget it anytime soon.
The new additions to the Roadster models are built with high quality materials and loaded with state-of-the-art features that are guaranteed to take over the city. They're also agile and incredibly lightweight for their capacities.
If you're into stylish motorcycles, the sport-inspired look of the Roadsters makes them the perfect choice for you. Besides, every one of them is an all-rounder that's at home everywhere, including the highways, narrow alleyways, and country trails. They're also made with the latest technology. The line-up includes the BMW F 900 R and the BMW S 1000 R.
If you want to know the best among the BMW Roadster line-up, every one of them is a likely contender. The BMW S 1000 R comes with a modernized design like the past designs but is more elegant.
The features of the Roadsters make them easier to ride than many other motorcycles. For instance, the BMW F 900 R has both Bluetooth connectivity and a 6.5-inch TFT display. The minimalist designs of the Roadster motorcycles add to their desirability. Whether you're an expert or a novice, you can easily ride them.
Why Should You Buy a BMW Roadster Motorcycle near Ontario, CA?
If you live near Ontario, CA, and want to get a Roadster, BMW Motorcycles of Riverside is the best choice for you. We are a BMW Motorcycle dealership near Ontario, and we have the BMW F 900 R and the BMW S 1000 R for sale. You can also ask us about our BMW F 900 R and BMW S 1000 R promotions.
You can find the reviews of motorcycles like the BMW F 900 R and the BMW S 1000 R so you can easily pick the one that agrees with you and your needs. Our inventory is vast and there's not a single BMW motorcycle, old or new, that you won't find with us.
If you've decided to get a motorcycle from us, you can contact us today to purchase your new motorcycle.