Why Buy a BMW Roadster Motorcycle near Los Angeles, CA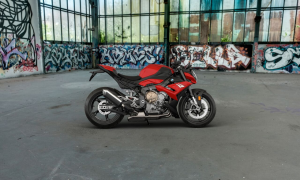 BMW makes the most recognized luxury vehicles globally, but not many know the company started as an aircraft engine manufacturer during WW1. So, it's no surprise that the company also manufactures motorcycles. It's one of the oldest manufacturers of motorcycles on the market, with its first motorcycle hitting the streets in 1923. This article will focus on the BMW Roadster models and why you should buy one from our BMW Motorcycle dealership near Los Angeles, CA.
Why You Should Buy a BMW Roadster
This year, BMW Motorrad has released several highly efficient motorcycles. Nevertheless, the Roadster Models are in a different league from them all. From the BMW F 900 R to the BMW S 1000 R for sale, the Roadster has proven to be both stylish and capable of more functions than most motorcycles. Below are some of the reasons why you should buy the Roadster.
Features
If there's one thing that sets BMW motorcycles apart from other motorcycles, it's that they're adequately furnished with an impressive number of state-of-the-art features which are capable of enhancing comfort, convenience, and safety. Some of the features you can find in the Roadster are cruise control, multi-controller, automatic heated grips, an onboard computer, and so on.
Aesthetics
Roadsters are also beautiful. There's just something about the designs that will make people give you a second look wherever you go. Even with the practicality of this motorcycle model, there's a sporty, sleek look to it that many other brands are unable to replicate.
Despite the beauty of this motorcycle, it's also very comfortable. Individual configuration that allows you to create a perfect motorcycle for you and your body size is also possible. You can get the BMW F 900 R for sale at BMW Motorcycles of Riverside.
Luxury
Even though Roadsters and other BMW motorcycles are no doubt beautiful, what makes them different is that they are produced in smaller numbers than other motorcycles. The type of engineering used is also different in terms of technology, engine characteristics, and suspension. In addition, high-grade materials are used in manufacturing their motorcycles.
You can read reviews on the BMW F 900 R and the BMW S 1000 R to learn more about these two motorcycles. Ask about our promotions for the BMW F 900 R and the BMW S 1000 R today.